ORGANIC POMEGRANATE VINEGAR
VINEGARS
Wild pomegranates are naturally fermented to produce an enzyme-rich ruby-red vinegar that is sweet and tart in equal measures. Its fruity sweetness and crisp acidity will lift salad dressings, marinades, sauces and grilled vegetables or it can be served as a refreshing tonic.
Pomegranate vinegar is popular in Mediterranean countries where it is used in salad dressings, marinades, dips and cold tonics.

SIZE: 500 ml
GTIN-13: 5060323903131
GTIN-14: 15060323903138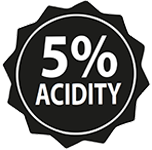 INGREDIENTS
Organic pomegranate vinegar.
ALLERGENS
Naturally occurring Sulphites
FREE FROM
Celery, Gluten, Crustaceans, Eggs, Fish, Lupin, Dairy, Molluscs, Mustard, Peanuts, Sesame, Soy, Nuts
NUTRITION CLAIMS
Low Energy, Fat Free, Sugars Free, Salt-Free
HELATH CLAIMS
Gut-friendly
CERTIFICATIONS
Organic
Nutritional Information
100 ml
1 portion / 15 ml
Energy
18 kcal / 77 kJ
3 kcal / 12 kJ
Fat
of which saturates
0.0 g
0.0 g
0.0 g
0.0 g
Carbohydrate
of which sugars *
4.5 g
0.0 g
0.7 g
0.0 g
Fibre
0.0 g
0.0 g
Protein
0.9 g
0.1 g
Salt
0.01 g
0.00 g
Sodium
0.00 g
0.00 g
*Contains naturally occurring sugars
Gluten-free, Paleo, Vegan, Vegetarian, Ketogenic, Organic
Fontana FORMIELLO organic pomegranate vinegar is made in Naples from wild pomegranates grown in southern Italy or Spain.
PREPARATION
Add to marinades, sauces and grilled vegetables or serve as a refreshing tonic.
COOKING TIPS
Great for making vinaigrette. Try with maple syrup and evoo and drizzle over cooked vegetables.
Reduce pomegranate vinegar with honey to make a gastrique or agrodolce sauce to use over meat and vegetables.
Mix with garlic and mayo and brush over salmon before grilling or mix with ketchup, spices and honey to make a BBQ sauce.
COOKING IDEAS
Ideal for salad dressings, particularly those with apple and goat cheese.
Great for marinades, try for bulgogi or teriyaki marinades.
A good dipping option for dumplings and savoury pancakes when mixed with soy sauce, chopped scallions and chilli sauce.
Pomegranate vinegar can be used to make light refreshing cocktails by mixing with seltzer and a bit of sugar, gin or vodka
STORAGE
Store closed in a cool dark place, away from heat sources and direct sunlight. Any cloudiness or sediment does not affect the quality of the vinegar. This is a sign of our natural production method.      
PACKAGING INFORMATION
| | | |
| --- | --- | --- |
| Bottle | Clear Glass (70 GL) | Recyclable | Glass |
| Cap | Aluminium (41 AL) | Recyclable | Metal |
| Capsule | Polyvinyl chloride (3 PVC) | Recyclable | Plastic |
| Label | Paper (22 PAP)          | Recyclable | Paper |
| Case | Cardboard (20 PAP) | Recyclable | Paper |
SUSTAINABILITY
We are committed to minimising the amount of packaging used for our products, and are constantly exploring sustainable options, with zero plastic our ultimate goal. We measure the impact of our packaging using the three criteria below:
| | |
| --- | --- |
| Packaging to Product Weight Ratio | 87.7% |
| Recyclable Content | 100% |
| Plastic Content | 0.1% |
Our vinegars are packed in clear glass bottles and closed with aluminium caps. A plastic capsule is fitted on top of each closure to avoid any tempering of the product before the bottle is opened.
*****
Versatile vinegar, good for dressings, drizzling, all things Mediterranean.