ORGANIC APPLE CIDER VINEGAR
VINEGARS
Slow, traditional fermentation of pressed organic apples without the addition of sulfites yields a cider vinegar that is smooth, raw and natural. Our vinegar is also unpasteurised and unfiltered, which means it is rich in living enzymes and the nutritious vinegar 'mother' is intact.
Vinegar has a very old history in Italy where it has been prized since Roman times for its therapeutic properties and culinary uses.

SIZE: 500 ml
GTIN-13: 5060323904770
GTIN-14: 15060323904777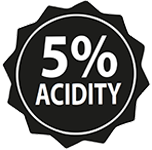 INGREDIENTS
Organic apple cider vinegar
ALLERGENS
Naturally occurring Sulphites
FREE FROM
Celery, Gluten, Crustaceans, Eggs, Fish, Lupin, Dairy, Molluscs, Mustard, Peanuts, Sesame, Soy, Nuts
NUTRITION CLAIMS
Low Energy, Fat Free, Sugars Free, Salt-Free
HEALTH CLAIMS
Gut-friendly
CERTIFICATIONS
Organic
Nutritional Information
100 ml
1 portion / 15 ml
Energy
21 kcal / 89 kJ
3 kcal / 13 kJ
Fat
of which saturates
0.0 g
0.0 g
0.0 g
0.0 g
Carbohydrate
of which sugars *
1.2 g
0.0 g
0.2 g
0.0 g
Fibre
0.0 g
0.0 g
Protein
0.0 g
0.0 g
Salt
0.01 g
0.00 g
Sodium
0.00 g
0.00 g
*Contains naturally occurring sugars
Gluten-free, Paleo, Vegan, Vegetarian, Ketogenic, Organic
Fontana FORMIELLO organic apple cider vinegar is made in Naples, in the South of Italy from apple juice made from apples grown in Northern Italy.
PREPARATION
Use in dressings and sauces or as a health tonic.
COOKING TIPS
Apple cider vinegar can brighten up slow cooked sauces and stews when stirred in at the end of cooking.
Adding apple cider vinegar to the boiling water used to boil or poach eggs can help produce consistently good eggs. This is because the protein in egg whites firm up more quickly when exposed to a more acidic liquid.
Apple cider vinegar gives meat a nice sweet and sour flavour when used in marinades.
COOKING IDEAS
Apple cider vinegar is a great addition to coolers, spritz, smoothies and hot drinks. It can be reduced to make a caramel sauce to use on ice creams or blended with berries to make a healthy dessert sauce.
STORAGE
Store closed in a cool dark place, away from heat source and direct sunlight. Any cloudiness or sediment does not affect the quality of the vinegar. This is a sign of our natural production method.    
PACKAGING INFORMATION
RECYCLYING
| | | |
| --- | --- | --- |
| Bottle | Clear Glass (70 GL) | Recyclable | Glass |
| Cap | Aluminium (41 AL) | Recyclable | Metal |
| Capsule | Polyvinyl chloride (3 PVC) | Recyclable | Plastic |
| Label | Paper (22 PAP)          | Recyclable | Paper |
| Case | Cardboard (20 PAP) | Recyclable | Paper |
SUSTAINABILITY
We are committed to minimising the amount of packaging used for our products, and are constantly exploring sustainable options, with zero plastic our ultimate goal. We measure the impact of our packaging using the three criteria below:
| | |
| --- | --- |
| Packaging to Product Weight Ratio | 87.7% |
| Recyclable Content | 100% |
| Plastic Content | 0.1% |
Our vinegars are packed in clear glass bottles and closed with aluminium caps. A plastic capsule is fitted on top of each closure to avoid any tempering of the product before the bottle is opened.
*****
Naturally great This is a tasty, fruity vinegar, not as sweet as balsamic but not as tart as standard vinegar.