BALSAMIC VINEGAR OF MODENA PGI
VINEGARS
A skilful blend of organic grape must and organic wine vinegar matured in wooden barrels, our balsamic vinegar of Modena PGI is unpasteurised, unfiltered and without any caramel colouring. Its smooth, naturally mellow profile blends beautifully with extra virgin olive oil in a salad dressing.

Balsamic Vinegar of Modena has been produced in Modena and Reggio Emilia since the XII century.

SIZE: 500 ml
GTIN-13: 5060323902707
GTIN-14: 15060323902704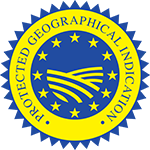 INGREDIENTS
Organic concentrated grape must, organic wine vinegar [Density 1.18] [Acidity 6%]
ALLERGENS
Naturally occurring Sulphites
FREE FROM
Celery, Gluten, Crustaceans, Eggs, Fish, Lupin, Dairy, Molluscs, Mustard, Peanuts, Sesame, Soy, Nuts
NUTRITION CLAIMS
Fat Free, No Added Sugars, Salt-Free
HEALTH CLAIMS
Gut-friendly
CERTIFICATIONS
Organic, Protected Geographical Indication (PGI)
Nutritional Information
100 ml
1 portion / 15 ml
Energy
111 kcal / 473 kJ
17 kcal / 71 kJ
Fat
of which saturates
0.0 g
0.0 g
0.0 g
0.0 g
Carbohydrate
of which sugars *
22.0 g
22.0 g
3.3 g
3.3 g
Fibre
0.0 g
0.0 g
Protein
0.9 g
0.1 g
Salt
0.02 g
0.00 g
Sodium
0.01 g
0.00 g
*Contains naturally occurring sugars
Gluten-free, Paleo, Vegan, Vegetarian, Ketogenic, Organic
Fontana FORMIELLO Balsamic Vinegar of Modena is made in Modena, Emilia Romagna, in the centre of Italy.
PREPARATION
Blend with extra virgin olive oil in a salad dressing or drizzle directly over grilled or braised meats and vegetables.
COOKING TIPS
Add a splash of balsamic vinegar to soups and sauces at the very end of cooking to bring the flavours together.
Use a little balsamic vinegar as part of the liquid in a braise to give the whole dish a deep, rich, slightly sweet flavour.
Throw a cup of balsamic vinegar in a small saucepan with some sugar, add a stick of cinnamon and let it reduce until syrupy. Chill before drizzling over a scoop of vanilla ice cream or strawberries.
Use balsamic vinegar with sliced shallots and a dollop of mustard to marinate steaks and other read meats, but tofu and large portabella mushrooms.
COOKING IDEAS
Brush balsamic vinegar of Modena over roasting chicken or duck breasts, shake some over grilled tuna steaks, drizzle over tomato salads, stir a little into a roast vegetable pasta sauce or through a risotto or even give it a whirl in a dessert.
STORAGE
Store closed in a cool dark place, away from heat source and direct sunlight. Any cloudiness or sediment does not affect the quality of the vinegar. This is a sign of our natural production method.  
PACKAGING INFORMATION
| | | |
| --- | --- | --- |
| Bottle | Clear Glass (70 GL) | Recyclable | Glass |
| Cap | Aluminium (41 AL) | Recyclable | Metal |
| Capsule | Polyvinyl chloride (3 PVC) | Recyclable | Plastic |
| Label | Paper (22 PAP)          | Recyclable | Paper |
| Case | Cardboard (20 PAP) | Recyclable | Paper |
SUSTAINABILITY
We are committed to minimising the amount of packaging used for our products, and are constantly exploring sustainable options, with zero plastic our ultimate goal. We measure the impact of our packaging using the three criteria below:
| | |
| --- | --- |
| Packaging to Product Weight Ratio | 87.7% |
| Recyclable Content | 100% |
| Plastic Content | 0.1% |
Our balsamic vinegar of Modena is packed in clear glass bottles and closed with aluminium caps. A plastic capsule is fitted on top of each closure to avoid any tempering of the product before the bottle is opened.
*****
Authentic, Italian and delicious. This is an authentic Italian balsamic vinegar, contains less salt than most expensive brands out there and most importantly contains NO preservatives or other nasty chemicals. I'm really impressed and I'll definitely buy this again. Highly recommend.