Pasta di Gragnano is a premium quality artisanal pasta made with 100% Italian durum wheat semolina.

Our pasta comes from Gragnano, a town in the Campania region of Southern Italy with a world-famous pasta tradition that stretches back to the 1800s. The combination of sea breeze, sunshine and humidity create the perfect conditions for drying pasta. Whilst Pasta di Gragnano is no longer dried outside on the streets and rooftops, it is still slow-dried at low temperatures and shaped through traditional bronze dies to achieve that perfect porous consistency for absorbing sauces and flavours.

SIZE: 500 g Net Wt
GTIN-13: 5060323904312
GTIN-14: 25060323904316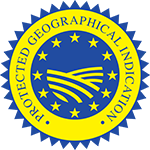 INGREDIENTS
Durum wheat semolina (Triticum durum L.), water
ALLERGENS
Contains Wheat
FREE FROM
Celery, Crustaceans, Eggs, Fish, Lupin, Dairy, Molluscs, Mustard, Peanuts, Sesame, Soy, Sulphites, Nuts
NUTRITION CLAIMS
Source of Protein, Low Fat, Low Sugars, Salt-Free
CERTIFICATIONS
Protected Geographical Indication (PGI)
Nutritional Information
100 g
1 portion / 75 g
Energy
356 kcal / 1,509 kJ
285 kcal / 1,207 kJ
Fat
of which saturates
1.4 g
0.2 g
1.1 g
0.2 g
Carbohydrate
of which sugars *
70.2 g
3.6 g
56.2 g
2.9 g
Fibre
3.2 g
2.6 g
Protein
14.1 g
11.3 g
Salt
0.00 g
0.00 g
Sodium
0.00 g
0.00 g
*Contains naturally occurring sugars
Fontana FORMIELLO penne  are made in the city of Gragnano, in the Campania region in the South of Italy.
PREPARATION
Pour pasta into salted boiling water (1l water for 100g of pasta). Stir several times and let boil. When cooked drain and season to taste.
COOKING TIPS
Perfectly cooked pasta is al dente, an Italian term meaning "to the tooth." This is when pasta is cooked through, yet still firm enough to offer some resistance to your bite.
It's important to use a pot large enough to to hold at least 1l of water for each 100g of pasta. A common mistake is to use too small a pot or not enough water, which results in sticky pasta.
Season the cooking water generously with salt (10g for each litre) as soon as it comes to a boil, then add the pasta when the water returns to a boil. The pasta will not be too salty but will be properly seasoned.
Do not add oil to the pasta water.
Stir occasionally to make sure that the pasta doesn't stick together. Do not cover the pot again.
Before draining the pasta, save some of the cooking water to add to the sauce. This adds extra starch to the sauce, emulsifying it, and helping it to cling much better to the pasta.
Drain pasta 1 or 2 minutes before the indicated cooking time and finish cooking in the pan with the sauce.
Use a colander to drain the pasta. Do not rinse after draining, this washes away the flavourful starches that will help sauces cling to it later.
COOKING IDEAS
Penne are ideal for simple and fast first course for pasta salad. They are perfect with vegetables, meat or cheese sauces.
COOKING TIME
13 minutes
 
SERVINGS
About 6 portions (80g per portion)
STORAGE
Store in a cool dark place. Once opened, store barley in a tightly sealed container.
PACKAGING INFORMATION
| | | |
| --- | --- | --- |
| Bag | Low-density polyethylene (4 LDPE) | Recyclable | Plastic |
| Pack | Paperboard (23 PBD) | Recyclable | Paper |
| Case | Cardboard (20 PAP) | Recyclable | Paper |
SUSTAINABILITY
We are committed to minimising the amount of packaging used for our products, and are constantly exploring sustainable options, with zero plastic our ultimate goal. We measure the impact of our packaging using the three criteria below:
| | |
| --- | --- |
| Packaging to Product Weight Ratio | 15.0% |
| Recyclable Content | 100% |
| Plastic Content | 1.9% |
Our pasta is packed in transparent plastic bags with paperboard head card. We are planning to introduce paper packaging or similar in the near future and phase out the current plastic packaging.
*****
Excellent artisanal quality pasta