PASTA FUSILLI CASERECCI
WITH PESTO, TOMATO AND BROCCOLI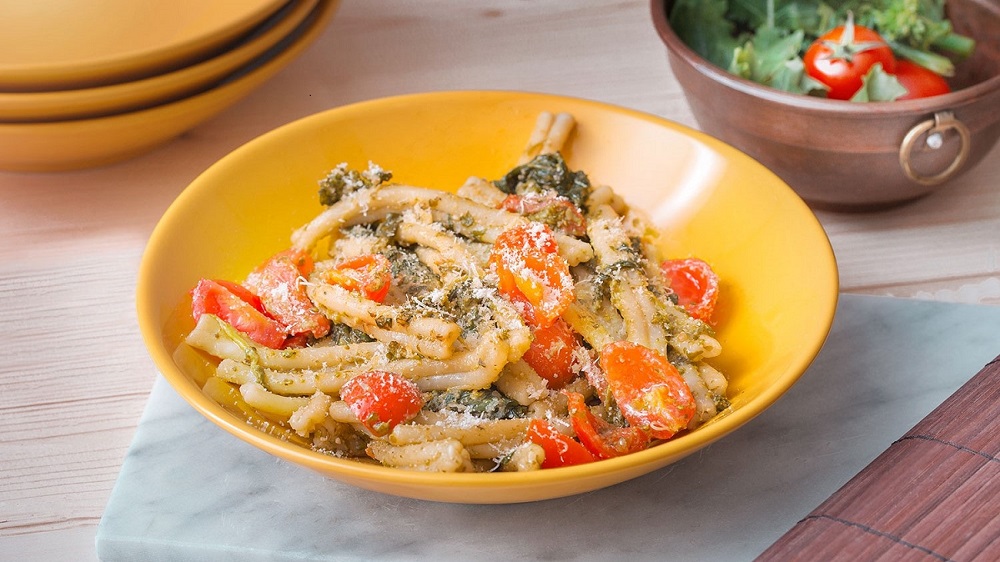 SERVES: 4
COOKING TIME: 25 min
DIFFICULTY: Easy
INGREDIENTS:
450g Fontana FORMIELLO Fusilli Caserecci
1 cup pasta water
2 large garlic cloves, minced
2 tablespoons Coppola Colline Salernitane PDO Extra Virgin Olive Oil
4 tablespoons + 2 tablespoons Coppola Basil Pesto, divided
450g grape tomatoes, halved
1kg small broccoli florets
80g cup sun dried tomatoes, thinly sliced
150g Parmesan cheese, grated
Salt, ground black pepper and red pepper flakes, to season
METHOD:
Cook pasta following on-pack instructions. While pasta is cooking reserve 1 cup of pasta water and prepare ingredients. Once pasta is ready, drain and set aside. Preheat large deep skillet on medium heat and add olive oil and garlic. Sauté for 30 seconds, stirring frequently.
Add tomatoes and 1 tablespoon of pesto. Cook for 4 minutes, stirring often. Move to one side of the skillet and make sure the empty side is positioned directly over heat. Then, add 1 tablespoon of pesto and broccoli and let the sauce cook for 4 more minutes, stirring once.
Remove skillet from heat and add pasta. Pour in remaining pesto, add sun dried tomatoes and stir to coat. Add pasta water and half Parmesan cheese to make the sauce creamier. Season with salt, black pepper and red pepper flakes.
Stir gently and let flavours marinate for a few minutes. Do not cover.
Before serving hot, sprinkle over the other half of Parmesan.